tfd classes
over 70 classes - priority booking for gym members
We understand the importance of a varied workout routine. Group exercise classes are a vital part of this variety and we offer over 70 classes every week.  From high energy Insanity and Spin to the more holistic approach of Yoga and Pilates, our four studios host a mixture of aerobic, calorie burning, strengthening and toning group exercise classes to fit into your schedule, help you stay interested and get you closer to your goal.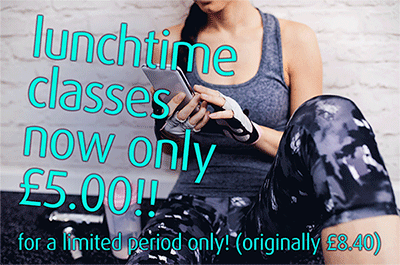 Our FitSense member's app makes managing your class bookings really easy. Get started now… by clicking on the store links on this page:

How to get your app...
Get started now…
go to the app store (iOS & Android)
search FitSense
install app
select 'member login' and enter your email address
enter the password issued by tfd reception. this can be changed at a later date on the app.
select 'remember me' and log in
when asked enter your height in cm.  this will be used for the tanita body composition test results.
pay-per-class & class bundle

Non members are welcome to attend the exercise classes by paying the class fee of £8.40. We also have a class bundle card available at £42 which gives you 6 classes for the price of 5!
You can book by phone or in person at reception up to 2 days in advance. Prior to your first class, we will ask you to complete a health questionnaire for your safety.
The class fee does not include the use of any other facilities at tfd.
Please note our cancellation, late & no show policy shown at the bottom of this page.
Please click on the 'PDF of the classes' button below to see what's coming up throughout July…
VIRTUAL: Video on FitSense app
LIVE: TFD outdoors
Booking…
Cancellation, late & no-show policy:
Should you arrive after the class start time, we may reallocate the space
We politely request a minimum of 2hrs notice to cancel a class
A charge of £8.40 per class will be payable for non-attendance
If you are a tfd gym member and would like to book using the FitSense App, follow the instructions at the top of this page.  It's so easy and means you can book and cancel classes any time.
You can also book your classes by calling us on 01235 772995