What's 'appening...
speedy updates on everything tfd-ish
Monday
08.45 – 9.00 Power Pump with Blake
Tuesday
17.30 – 18.00 Strong 30 with Lisa
18.45 – 19.30 Cardio Combat with Steffi
19.30 – 20.15 Dynamic Pump with Steffi
Thursday
17.45-18.30 Dance Fit with Hayley
19.15 – 20.00 Step & Tone with Ema
Saturday
09.30 – 10.15 45 min Spin with Anthea
All classes are free for members and can be booked 7 days in advance via the FitSense app or at reception. Non-members are welcome at £8.40 per class and can book 2 days in advance.
Do you like the sound of running through the woods, over obstacles, through lakes and fields?
Join the TFD pack, lead by Ash, Blake & Damian, who will be taking part in the Wolf Run in Leicestershire on Saturday 6th June. The 10km route will involve a lot of mud, obstacles and team work.
Blake has taken part in this course before and has put together a 10 week training plan for those who wish to train for it under his guidance. It is a fun and competitive day out with team work being essential so no one will get left behind!
Ask at reception for the "Pack Code" and get signed up!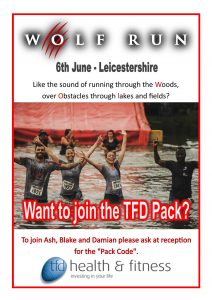 FitSense & Body Composition 
Download our FitSense members app to make your fitness journey even easier
view class schedule & timetable in the app
manage your class bookings with ease
join a waiting list to be notified when a slot becomes available
view your position on the waiting list
& lots more
Get started now…
go to the app store (iOS & Android)
search FitSense
install app
activate your account (for this it will ask for your name, date of birth, email address & postcode). these need to match what we have on our system, so if you've got a new email address or have moved house, give us a ring on 01235 772995 or email info@tfdgym.co.uk so we can update our records.
your password will be emailed to you
log in & start booking!
We now offer Body Composition tests where you can book a 15 minute appointment with one of our instructors to find out your Body Fat, Muscle Mass, BMI, Metabolic Age, Bone Density and much more! Your results will download straight to your FitSense app and you will be able to compare your results on any future tests that you do.
Ask at reception to book in your Body Composition today!
Gym Opening Hours
Mon – Thu               6am to 10pm
Fri                           6am to 9pm
Sat – Sun                8am to 4pm
Bank Holiday          8am to 12pm